jkusner
This user hasn't shared any profile information
Posts by jkusner
But when they saw Him walking on the sea, they supposed that it was a ghost, and cried out; for they all saw Him and were terrified. But immediately He spoke with them and said to them, "Take courage; it is I, do not be afraid." Then He got into the boat with them, and the wind stopped; and they were utterly astonished,
Mark 6:49-51 (NASB)
Cry out to Christ when darkness and clouds are present. His comforting voice and presence are enough to provide courage and calm the storm.
While Jesus was still speaking, some people came from the house of the synagogue leader. They said, "Your daughter is dead. There is no need to bother the teacher anymore." But Jesus paid no attention to what they said. He told the synagogue leader, "Don't be afraid; just believe."
Mark 5:35-36 (NCV)
The treatment for anguish and fear is faith. We rest on the promises of Christ and depend on Him to do what is right.
Jesus got up and ordered the wind and the waves to be quiet. The wind stopped, and everything was calm. Jesus asked his disciples, "Why were you afraid? Don't you have any faith?" Now they were more afraid than ever and said to each other, "Who is this? Even the wind and the waves obey him!"
Mark 4:39-41 (CEV)
When we have faith in ALL matters our fears turn to calm. Give honor and praise to God who is gracious and all powerful.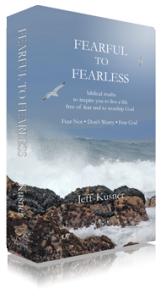 The account of Jesus calming the storm in today's passage demonstrates Christ's power over nature and His ability to comfort us in the storm, showcasing our need to call on Him in prayer and place our trust and reliance on Him. It was this passage that was the inspiration for writing Fearful To Fearless.
The seed that fell among the thorns represents others who hear God's word, but all too quickly the message is crowded out by the worries of this life, the lure of wealth, and the desire for other things, so no fruit is produced.
Mark 4:18-19 (NLT)
Do not be concerned with the pleasures and desires of the world; they are an obstruction to our being deeply rooted in the Word of God.
Then Jesus said to them, "Do not be afraid. Go and tell my brothers to go to Galilee; there they will see me."
Matthew 28:10 (NIV)
Christ is risen, He is with us. His resurrection silences fear and fills us with hope and joy. Now go out and proclaim it!
The angel said to the women, "Do not be afraid; for I know that you are looking for Jesus who has been crucified. He is not here, for He has risen, just as He said. Come, see the place where He was lying."
Matthew 28:5-6 (NASB)
Do not allow fear to mislead or fool you with things that are not true. We have no cause to be afraid when we place our faith in God's promises because they are true. Seek Him and you will find Him, and then look forward to meeting Him face to face. He is our reward.
Verse 3 of "In Christ Alone" celebrates the victory we have in Christ through His sacrifice.:

And you will hear of wars and rumors of wars; see that you are not frightened or troubled, for this must take place, but the end is not yet.
Matthew 24:7 (AMP)
When our hearts are fixed and trusting in God we are able to be at peace and unafraid of outside troubles that we have no control over.
While Peter was still speaking, the shadow of a bright cloud passed over them. From the cloud a voice said, "This is my own dear Son, and I am pleased with him. Listen to what he says!" When the disciples heard the voice, they were so afraid that they fell flat on the ground. But Jesus came over and touched them. He said, "Get up and don't be afraid!"
Matthew 17:5-7 (CEV)
What a comfort it is that Christ is nearby, that through His word and touch of grace He is able to remove the clouds of fear.
"Come," Jesus said. So Peter got out of the boat. He walked on the water toward Jesus. But when Peter saw the wind, he was afraid. He began to sink. He cried out, "Lord! Save me!" Right away Jesus reached out his hand and caught him. "Your faith is so small!" he said. "Why did you doubt me?"
Matthew 14:29-31 (NIrV)
Drown out fear and doubt through strong faith in Christ, He is able to calm the winds of fear, so reach out to Him in purposeful prayer.
The account of Peter walking on the water toward Jesus is a picture of doing with God's help what you could never do on your own. It reminds me of one of my all time favorite books written by John Ortberg. The book is "If You Want to Walk on Water, You've Got to Get Out of the Boat". It speaks to issues of how we face fear and can experience the power of God as we trust Him to do things beyond what we could imagine. I Highly recommend this book!
And when the disciples saw Him walking on the sea, they were terrified and said, It is a ghost! And they screamed out with fright. But instantly He spoke to them, saying, Take courage! I AM! Stop being afraid!
Matthew 14:26-27 (AMP)
The more we know Christ the more we trust Him. The storms of fear are silenced because Christ is near.
jkusner's RSS Feed